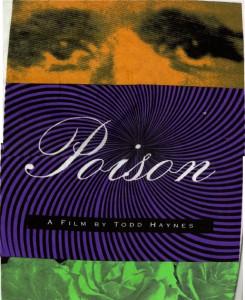 One of my most glorious cinematic moments has returned!
The acclaimed 1991 indie film Poison is screening this week, in a new print, at NYC's IFC Center.  I appear for a flash as an abused prisoner—as a man!  (The movie is based partially on the prison memoirs of French outlaw writer Jean Genet.)
I must say, I do a pretty good job.  Very vulnerable, very young!
Director Todd Haynes (who is a sweetheart) personally cast me.  He was already an underground auteur with his cult classic Superstar, a bio of singer Karen Carpenter starring a Barbie doll cast (Watch it here!).
But it was Poison that really put him on the map.  The film is fantastic, an amazing and powerful piece of political art created in response to the rampant AIDS hysteria and homophobia of the Reagan era.
Says the NY Times about the movie's revival:  "A milestone in American independent film and the inciting spark for what came to be known as the New Queer Cinema."
Nowadays Haynes is one of the film world's most creative forces, with a string of daring movies, including Safe, Velvet Goldmine, Far From Heaven and I'm Not There.
I'm so proud to be connected in a small (but pivotal!) way to Poison and Haynes' career.
If you can't swallow Poison this week, then find another way!