Big news!  I'm throwing a pop-up happy hour party (6:30–10pm) on Friday, March 18th, in the Gallery Lounge of Le Poisson Rouge, featuring all sorts of gender-bending entertainment.
But after calling Chris Tanner about performing, I'm torn about what to call it.
My catchy idea: "Zip-A-Dee-Doo-Drag."  His similar-sounding suggestion: "Dippity-Do-Drag."
"Makes more sense, you fucker!" he bellowed.  "Drag queens wear wigs.  And Dippity Do is the name of a hair gel."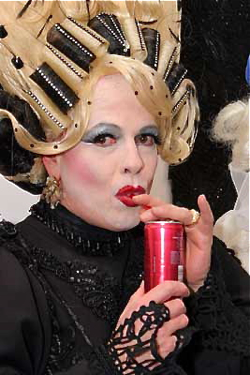 He does have a point.  Zip-A-Dee-Do-Drag?  Dippity-Do-Drag?
Hmm, which one should I choose?