I didn't want to start promoting Lady Bunny's new show, That Ain't No Lady, at La Escuelita nightclub before I could see it for myself.  I only recommend superior products!
So what's the verdict?  Was I delighted by last night's debut, which Bunny referred to as a "mess rehearsal?"  Yes, precisely because it was so messy!  Technical difficulties, an unmemorized song list, and a smashed banana prop helped create a perfectly goofy framework for her retrospective of crude, rude, cornball jokes and song parodies.
Bunny vowed from stage that the rest of the show's run (through October) will be slicker, but there's absolutely no need.  Watching Bunny have to hilariously improvise her way through the topsy-turviness was the best part!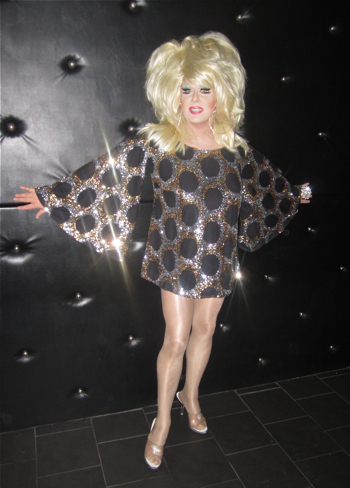 Who was there, groaning and moaning to Bunny's "zingers?"  Lots of her old-time pals, including Perfidia, Billy Beyond, Bobby Miller, Barbara Patterson Lloyd, Lurleen Wallace, Miss Guy, Lahoma Van Zandt, Katie Krocodile, David Yarritu, Jimmy Paul, Dany Johnson and Ande Whyland.  I attended with Angela Di Carlo, who's (relentlessly) promoting her own show.  And popping on stage for a second—in flats!—was Carmen Carrera from RuPaul's Drag Race.  
After the show Bunny let loose by madly shimmying around the club to dance classics from her younger days—a consummate performer dedicated to entertaining her fans both onstage and off!