For old time's sakes, I should've bought some Lucky Charms to kick off St. Patrick's Day.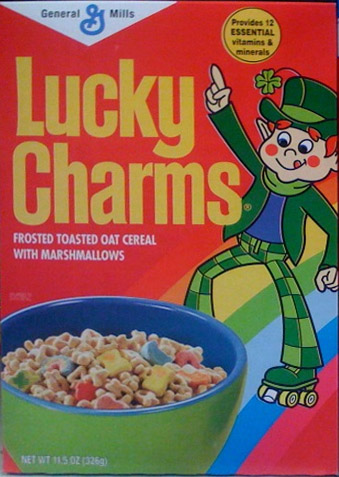 I used to gobble them up as a kid, but back then I would eat any sweetened cereal—Cap'n Crunch, Fruit Loops, Frosty Flakes, Fruity Pepples, you name it.  Just like any other red-blooded American kid.
So it any surprise that our country is so out of shape?  We're all weaned on massive doses of sugar as soon as we can crawl to the breakfast table.  Breakfast cereal is a gateway drug!
Thank goodness I managed to regulate my sugar intake as I grew older.  I still eat sweet stuff, but nowadays I get most of my sugar from drinking alcohol and beer.  You know, healthy stuff.
Happy Green Beer Day!  May the luck of the Irish be with you!