As I entered XL nightclub last night for the official wowie-zowie party for the final episode of RuPaul's Drag Race, there she was!   Performing on stage!  Sharon Needles, the brand-new winner!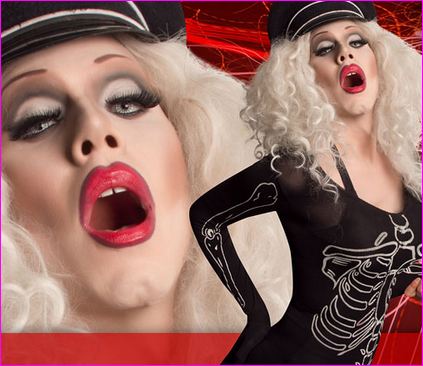 After a spirited lipsynch of Marilyn Manson's "Beautiful People," Sharon, clad in an American flag, got all Gaga-ish with some "proclamations" about how her victory was a rallying cry for freaky outcasts and how it was time to overthrow mall culture.  Down with Strawberry's!
Then she acknowledged some of the freaky NYC club personalities who had gathered with her on stage.  Statuesque Jordan Foxx was hailed as the "new Michael Alig," which was a bit creepy considering that Alig, who was the ringmaster of the 1990s club-kid scene, is currently in prison—for murder!   Veteran Susanne Bartsch got a shout out for "putting RuPaul on a go-go box when no one else would."  (So she's to blame!)   Transsexual nightlife icon Amanda Lepore received the most praise of all—and now that Sharon is $100,000 richer she can afford the plastic surgery to look like her!
"These people are magnets of pop culture," said Sharon, "These are the people I'm drawn to."
Then she got into her prop coffin and was carried off stage.  The queen is dead, long live the queen!