I hope you can join me for the release party for my debut photo book, PAGES.
I wanted some place fancy—So I chose the Cock!
It's a Happy Hour affair—Wednesday, November 13th, from 7 to 10pm.
The party, like the book, is an homage to Page.  (Or is it crass exploitation? You decide.)
Linda
P.S.
After selling out at the NY Art Book Fair, PAGES is now available at stores.  See list below.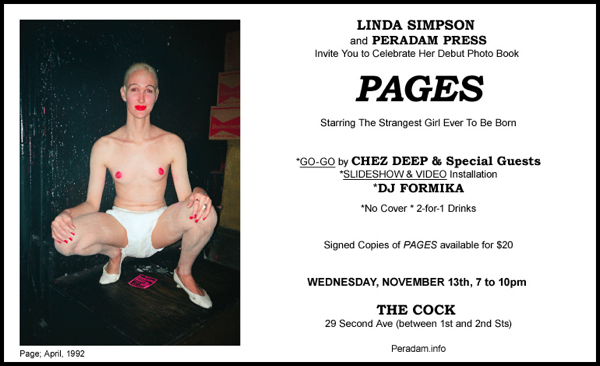 Wednesday, Nov 13th – 7 to 10pm – The Cock, 29 Second Ave * No Cover // 2-for-1 Drinks
PAGES IS NOW AVAILABLE AT STORES,
INCLUDING THESE NYC LOCATIONS
Artbook at PS1
Dashwood, 33 Bond St
Love Shine, 543 E 6th St 
McNally Jackson, 52 Prince St
Printed Matter, 195 Tenth Ave
St Mark's Bookshop, 31 Third Ave
More Stores to Come!
Mail-order copies available at Peradam