Check it out! I'm the featured guest on the new episode of How Was Your Week?, the popular podcast from comedian-actress Julie Klausner.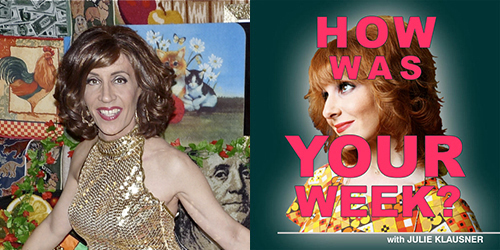 I've known Julie for a while, but this is the first time we've really had an extended conversation, and I gotta give her credit for being a great and insightful interviewer. Our conversation was mostly about my life and times as a drag queen—you know, the ancient history stuff that I won't shut up about!
The actual taping occurred a couple of weeks ago, and since then Julie has been a busy bee. She filmed a pilot for a new TV show called Difficult People,  produced by Amy Poehler and co-starring Julie and Billy Eichner!
I hope she becomes a huge star so I can say, "Honey, I've know Julie forever, I was even a guest on her podcast. We taped it in her kitchen!"