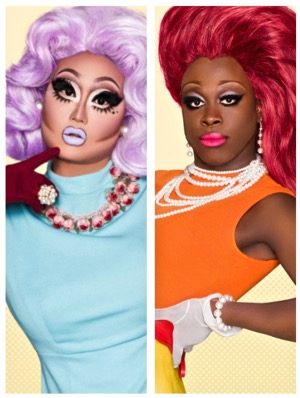 When I was at RuPaul's Drag Con in L.A earlier in the month, Ru polled the crowd at his keynote address as to who should be the new big winner. By far the biggest applause was for Kim Chi.
Sorry, Ms. Chi! As everyone well knows, Bob the Drag Queen has since snatched the title. (It was pretty obvious that the third contestant, Naomi Smalls, didn't have a chance. But she's sweet!)
The Gay Internet is still raging about the results! If you think the battle between Hillary and Bernie supporters is intense, then stay clear of the the feuding factions that watch RuPaul's Drag Race.
Although I would have been fine with either of the top two girls winning, I was definitely Team BTDQ. I saw her perform in L.A. as part of the "Queens of Comedy" show at the Ace Hotel, and I was really impressed by her confidence way of interacting with the audience. All her years of working at NYC bars and clubs have taught her well. She's not as caustic as Bianca del Rio (thank God!), but very funny with her observational and goofy act.
The only thing I'm not crazy about is her name considering there has been a burlesque star around for years named The World Famous Bob. Although I guess it beats the drag name she was using up until a couple of years ago, Kitten Withawhip.
Actually, maybe I should change my own name. Linda the Seasoned Transvestite? Linda WithSoreFeet? Gotta work on it.