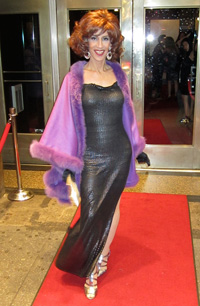 IN A NUTSHELL
Linda Simpson entertains, inspires and illuminates as one of New York's most multi-faceted drag queens.
Always eager to try new things, she expresses her creativity as a multi-media performer, writer, cultural commentator and events organizer. Known for her witty demeanor, fine-tuned camp sensibility and unique blend of sass and class, Linda enthusiastically embraces the role she was born to play—a reigning queen!
Linda is proud to be a role model for modern youth and an enthusiastic champion of the avant-garde.
Linda Simpson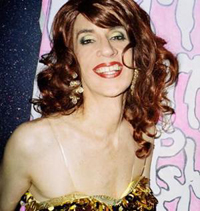 Background Information
Birth Name:
Leslie John Simpson
Born:
Yes!
Origin:
Gaylord, Minnesota (For real!)
Occupation:
High-profile NYC drag queen; Renaissance gal
Years active:
1988–Present
Website:
BIOGRAPHY
Like most drag queens Linda Simpson was born after dark, starting out at the legendary Pyramid Club, the hub of the campy East Village scene during the late 1980s and early 1990s. Since then she has worked nightlife gigs galore as a party promoter, hostess and MC. (She still hasn't learned to sing or lipsynch!)
Linda's multi-faceted career also includes publishing the underground "revolutionary gay magazine" My Comrade (founded by her alter ego Les Simpson); hosting the groundbreaking nationally broadcast cable TV show Party Talk; writing, producing and starring in four plays, all dark comedies—The Tranny Chase and The Final Episode (both at P.S. 122), The Bad Hostess (at La Mama Theatre), and The Emperor's New Codpiece (at the Laurie Beechman Theatre on 42nd Street). As a game-show host, her wildly popular Bingos have entertained throngs of players, and she was even flown to London to show off her skills for a TV variety show.
Her Internet projects include MyComrade.com, featuring her twisted take on current affairs (The site is currently on hiatus); Bitches in the Sky, a gender-bending photo novella about the filthy rich starring an array of nightlife personalities; and Every Night in Drag, a photo essay of her captivating images of NYC's drag scene from the late 1980s to the mid 1990s.
Of all the media quotes about Linda, here are some of her favorites:
"A worldly wit… A kind of mother superior of the New York drag scene."
— The New York Times
"The thinking woman's drag queen."
— Paper Magazine
"The ultimate hostess: a drag queen with no specific gimmick to speak of except for charm, wit, and a fondness for corny jokes."
— ButtMagazine.com
"Linda Simpson quotes and quips for the quality-seeking queer in all of us."
— Genre
As for the future… Linda is eager to soar to new heights by being more creative and productive than ever before!
Linda's for Hire!
* As a party promoter, she's renown for her fun-filled affairs. Need a drag queen, go-go dancer, DJ or other type of entertainer? Linda can supply you with the best! Her clients have included Exit Art gallery, Taharai fashion company and Sex and the City.
* As an MC, she's an engaging and delightful whiz on the microphone.
* As a hostess, she infuses any event with her outgoing and cheerful manner. And she always dresses for the occasion!
* As a television interviewer, she knows just the right questions to ask for an informative and fun-filled chat.
* As an actress, her specialty is comedy, but she's also excelled in dramatic roles.
* As a writer, her press-clippings portfolio is overflowing with magazine articles. She has also penned dozens of skits and four full-length plays.