I'm back from my London jaunt.
Mission accomplished!  I was brought over to host Bingo for The Dirty Digest, a TV pilot for Channel 4, and the response was ultra positive!
John Noel Management, which produced the show, rented an old-fashion party room (under a Catholic Church!) and filmed the show in front of a charged-up audience (There were free drinks!).
Ever seen Chelsea Lately on E!, starring comedian Chelsea Handler?  The Dirty Digest offers a similar format, with the host—funny girl Michelle De Swarte—dishing and dissecting pop culture with a trio of smart alecks.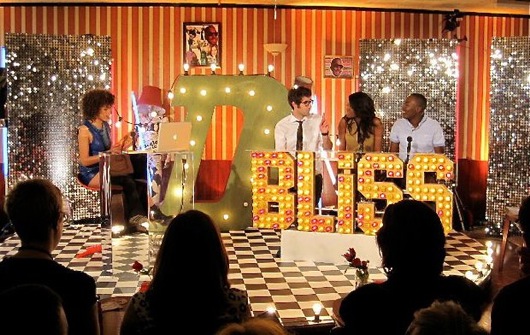 During the show, the cameras would cut to me and my ball-calling cohort Murray Hill on a side stage as we hosted Bingo and offered sensational and hilarious quips.  (Well, at least I did… Kidding!  Murray's grunts were somewhat amusing.)   Chelsea has her sidekick, Chuy—Michelle has us.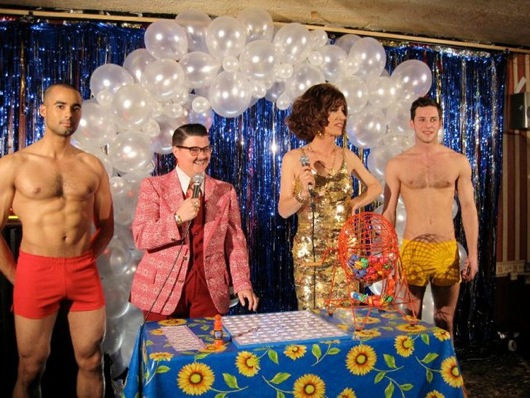 The powers-that-be seemed quite pleased with the entire project.  So who knows—Maybe the show will get commissioned and down the road I'll be spending more time in dear London towne.  I would love it!
Whatever happens, it was an awesome experience.   Many, many thanks to the production team and everyone at John Noel Management, including John himself, Dan Gray(!!!!), Amber, Alice, Andrew, Bubbles, Laura, Nova, Adam, Kerrie… I hope I'm not forgetting anyone!.  And, most of all, thanks to Michelle for recommending me!!!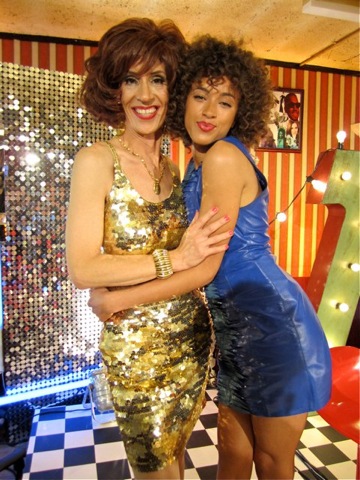 And beyond that… Thanks to the little "lady" who introduced me to Michelle, our mutual NYC friend Shaquanda Coca Mulatta (who appeared on the show via Skype).   She lit the fire!