I'm in swinging London!  First on my agenda: A get-together with makeup artist Kabuki Starshine, who is visiting from NYC (with his boyfriend Chuck).
Kabuki and I have known each other since the early 1990s when he reigned as one of nightlife's most amazing creatures, thanks to his incredible transformation skills.  Behold these pix I took of him back in the day: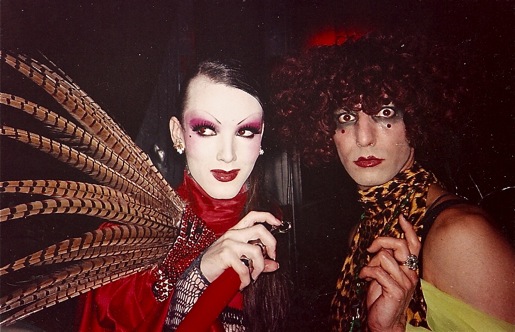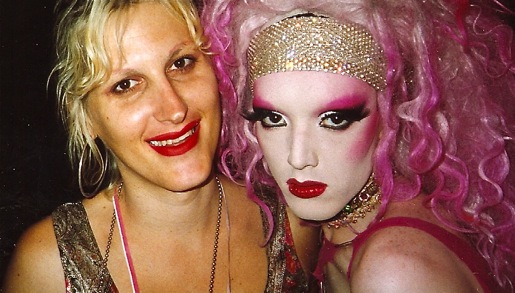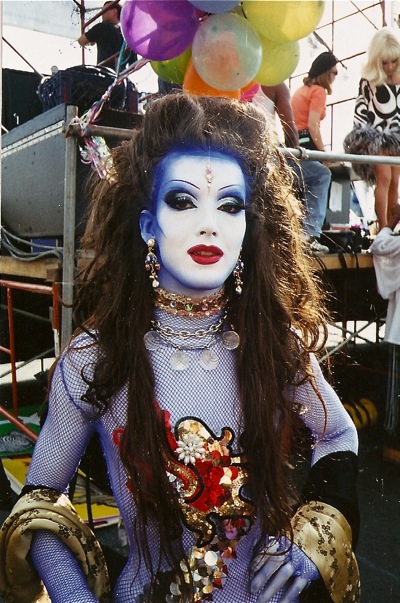 Nowadays he beats other folks' faces—models and celebrities galore—and it's no exaggeration to say that he's one of the world's top makeup artists.  (Check out his website.)  He's currently in London on a press junket for the British cosmetics line Myface (for which he provides creative direction), as well as to work with superstar singer Kylie Minogue.
Has success changed Kabuki?   Yes, he's now a haughty bitch who lords his success over all he encounters.  Kidding!  He's still sweet—and delightfully sarcastic, with a heavy dose of skepticism about the high-falutin fashion world.
At his hotel room, he gave me some much-needed beautification tips.  I was wigless so for photos I opted for a towel headdress.
Jet-lag chic!