12/30 - 7:30 PM
New York, NY
HOLIDAY BONUS BINGO
By popular demand, I've added an extra night of fun and games for the holidays—on Tuesday, Dec 30th, from 7:30 to 9:30pm, at Le Poisson Rouge.
(The event is in the club's Gallery Lounge, where I host "Le Bingo" every Saturday).
It's a night of goodwill and charity! The event serves as a fundraiser for Stone Soup Parties, which throws birthday parties for underprivileged youth.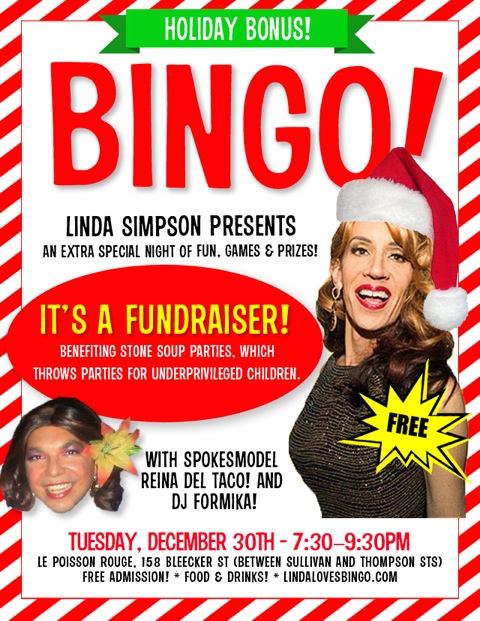 Win prizes—and raise money for a great cause. With spokesmodel Reina Del Taco and DJ Formika—and a cash jackpot. It's the perfect way to end the year!
Free Admission. Bingo cards $2 each. Food menu and full bar (Happy Hour prices until 7:30pm.)
A portion of tonight's sales will go to Stone Soup Parties, and donations of any amount will be gladly accepted.
Please note that we start right on time. Arrive early for best seats, doors open at 6:45pm.