12/24 - 6:45 PM
New York
WIN BIG AT NYC'S #1 DRAG GAME SHOW
—LINDA LOVES BINGO!
The game-show formerly know as "Le Bingo" is now known as "Linda Loves Bingo!" New name, same great format of thrills, laughs and prizes!
Join hostess Linda Simpson as players vie for a treasure trove of prizes, from discount-store delights to a cash jackpot. The non-stop excitement includes a dazzling array of colorful drag-queen and burlesque-babe spokesmodels; and drink specials determined by the "Wheel of Chance."
The New York Times, Time Out and New York magazines all agree: Bingo with Linda is a blast!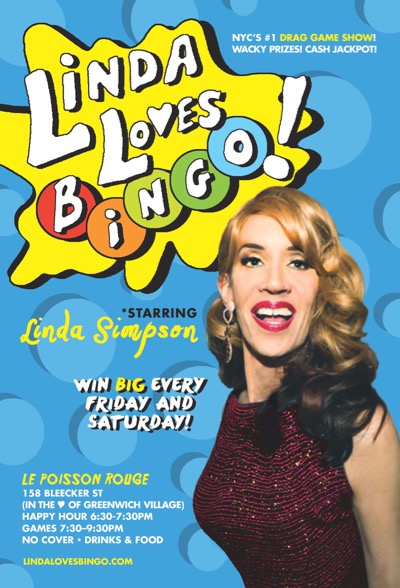 Bring along your friends, relatives, your special someone, or just come alone—Anyone can be a winner at this fun-filled affair! Great for birthday celebrations and other special gatherings. Full bar and food menu. (Arrive early for best seats.)
WHERE: Le Poisson Rouge—in the Gallery Bar, 158 Bleecker St (between Sullivan and Thompson Sts)
FREE Admission! Bingo cards are $5 for two; $10 for five.