I just learned the sad news that art dealer John Wessel died last month.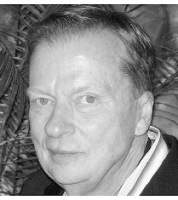 He was 70, which means I met him when he was about 50.  He and his boyfriend William "Billy" O'Connor owned Wessel + O'Connor Gallery in Tribeca, which represented a few of my up-and-coming artist friends.
The gallery then moved to Soho and became a hotspot for queer identity art during the AIDS activism era.  Its biggest buzz was for an exhibit of paintings by Christopher Ciccone, the gay brother of Madonna.  She showed up for the opening.
Later on, at various locations, the gallery specialized in vintage homoerotic male physique photography.
John was from St. Louis and was a charming and graceful gentlemen who practically always wore a sports coat.  Also endearing was John and Billy's May/September romance; John was the elder by 16 years.  They met in 1979 and married in 2008.
John grew up when homosexuality was a terrible taboo, even in the art world, and his decision to devote his life to championing gay artists and gay art was a courageous act of personal liberation.
I'm very sorry that I hadn't seen him over the last several years.   On Saturday, I plan on attending his memorial.