12/18 - 6:30 PM
New York, NY
Tonight's Special Edition of Le BINGO is called HO HO BINGO!
It's a Fundraiser for the Ali Forney Center, which provides shelter for homeless LGBT youth.
It's free admission, with Bingo card sales and donations going to charity. Hope you can join us!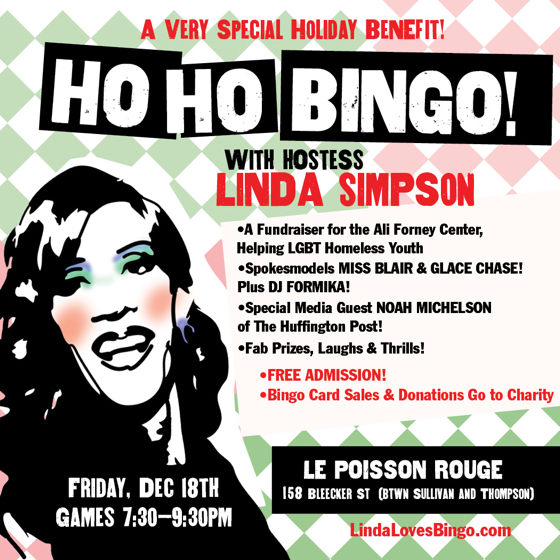 Thrill to one of NYC's longest running game shows, an action-packed and kooky spin on everyone's favorite game of chance!
Drag queen hostess LINDA SIMPSON gives away a treasure trove of prizes—from discount-store delights to a nightly cash jackpot. Special games! DJ Formika! Dazzling array of colorful drag-queen and burlesque-babe spokesmodels! Drink specials throughout the night!
Bring along your friends, relatives, your special someone, or just come alone—Anyone can be a winner at this fun-filled affair! Great for birthday celebrations and other special gatherings.
FREE Admission! Bingo cards are $2 each. Full Bar and Food Menu
WHEN: Fridays and Saturdays. Games 7:30–9:30pm. (Happy Hour until 7:30pm) *Arrive early for best seats, games start right on time.
WHERE: Le Poisson Rouge—in the Gallery Bar, 158 Bleecker St (between Sullivan and Thompson Sts)