Duh-duh-da-dahhh!  Announcing a new regular feature: Faggy Fashion Fridays, showcasing the best and worst in homosexual attire!
Our debut ensemble is a sexy fetish look, the kind that only gay men dare to wear—at least in public!
The image (which I've held on to for decades) is from the long-gone gay porn magazine In Touch (not to be confused with the celebrity gossip rag of today), which intriguingly used to include out-on-the-town coverage of the down-and-dirty punk music scene.
I love this punk-meets-leatherman look!  Hot!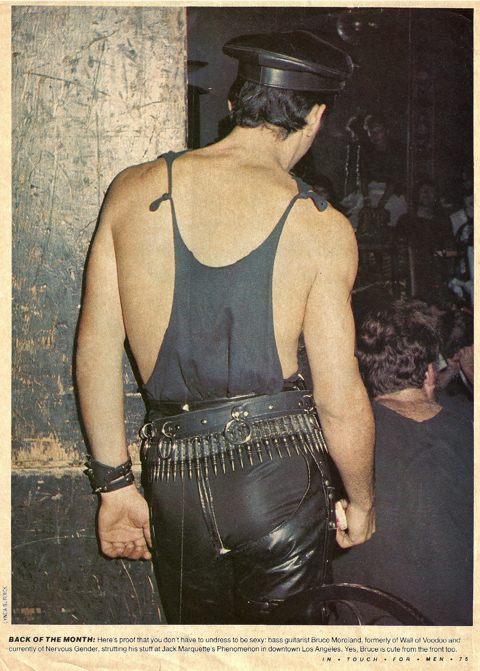 The caption reads:
BACK OF THE MONTH: Here's proof that you don't have to undress to be sexy: bass guitarist Bruce Moreland, formerly of Wall of Voodoo and currently of Nervous Gender, strutting his stuff at Jack Marquette's Phenomenon in downtown Los Angeles.  Yes, Bruce is cute from the front too.
Bonus!  Here's another page from the same issue of In Touch.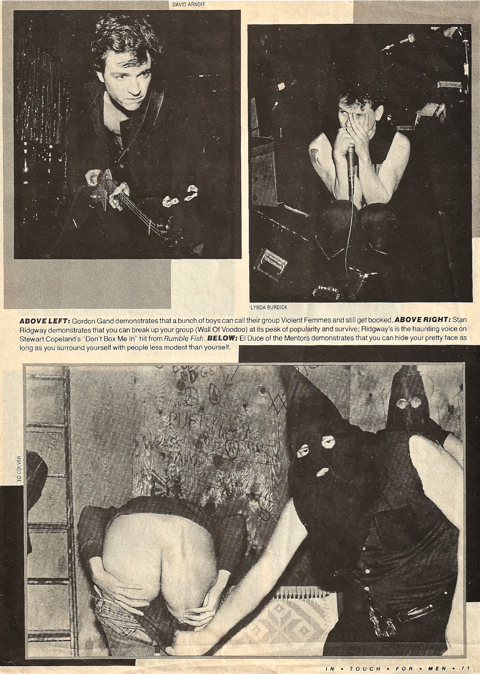 The caption reads:
ABOVE LEFT:  Gordon Gand demonstrates that a bunch of boys can call their group Violent Femmes and still get booked.  ABOVE RIGHT: Ridgway demonstrates that you can break up your group (Wall of Voodoo) at its peak of popularity and survive; Ridgway's is the haunting voice on Stewart Copeland's "Don't Box Me In" hit from Rumble Fish.  BELOW: El Duce of the Mentors demonstrates that you can hide your pretty face as long as you surround yourself with people less modest than yourself.