Inflammatory rhetoric that tears at the fabric of our great nation has infested our news, Congress and even the streets of New York!  What's a gal to do?
Lady Bunny steals the show in this 2004 video (by Bernhard Blythe) of her, me and Miss Understood ridiculously disrupting a group of Black Israelites preaching in Times Square against "devil gays."  (We were coming from a protest against the Republican Convention, thus our signs.)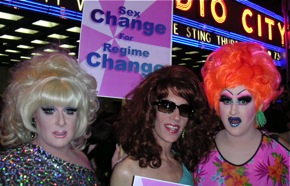 I was laughing so hard at Bunny's hilarity that all I could do was bounce around like a fool!
The gathered crowd cheered us on as we vanquished our venomous foes!
Damn, that felt good!