In a few hours I'm fleeing NYC's heat wave for California.   Gonna spend a couple of days in San Fran-Sissy-Co, then meeting my Mom at my godparents who live in a cute little town right on the Pacific Ocean.  Gonna hang with the oldsters, and I'm looking forward to some R & R.
I've been working nonstop these past few weeks putting together "The Drag Explosion," my photo collection of NYC's bygone drag scene.  And I'm thrilled to report that my first full-fledged presentation at Dixon Place was a smash success.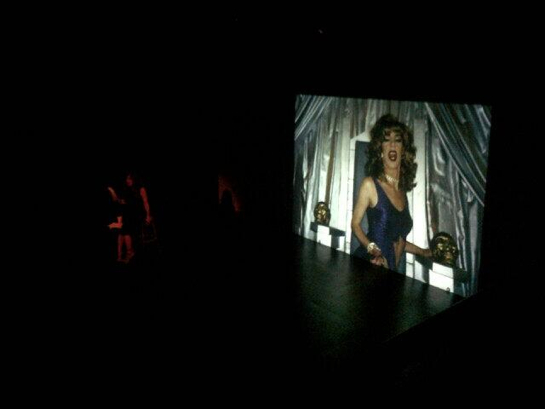 The standing-room only crowd was incredibly enthusiastic, and I'm very encouraged to do more events.  Yahoo!
The feedback included this very perceptive review by writer Emily Colucci at her arts blog Filthy Dreams.  Yay! 
Okay, gotta run and pack for my trip!  Am I bringing drag attire?  No!  I'm on vacation!
(Twitter photo from Alexis Blair Penney.)