To my surprise I just found out that I'm in Wikipedia.  It's not an article about me and my great accomplishments, but instead a photo of me and my Bingo partner Murray Hill, who let me know about our inclusion.
The subject of the article—gasp!—is Transgender, which is defined as "a general term applied to a variety of individuals, behaviors, and groups involving tendencies to vary from culturally conventional gender roles."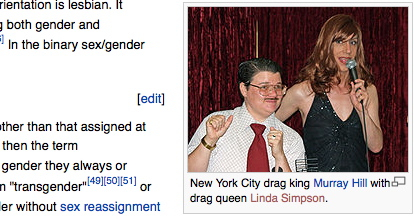 Yep, I guess I qualify.
I have no idea who submitted our photo, which was taken a few years ago when we used to host at Mo Pitkin's.  I recognize the curtains.
Nice to be included.  Transgender Power!  But if I'm going to be a drag-queen specimen, it would be better to use a photo where I appear more draggy.
I look pretty minimalist for a DQ!